If DL-Windows has not been launched for a period of time, sometimes only more than a couple of days, Microsoft Windows may decide to conserve computer resources by stopping the service that supports the DL-Windows database. The following message would appear: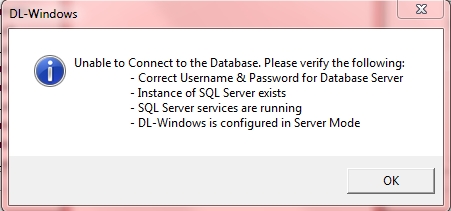 Proceed as follows:
Verify that the service MSSQL$ALSQLEXPRESS is running (press Ctrl + Shift +Esc to launch Task Manager, then click the Services tab or search for Services).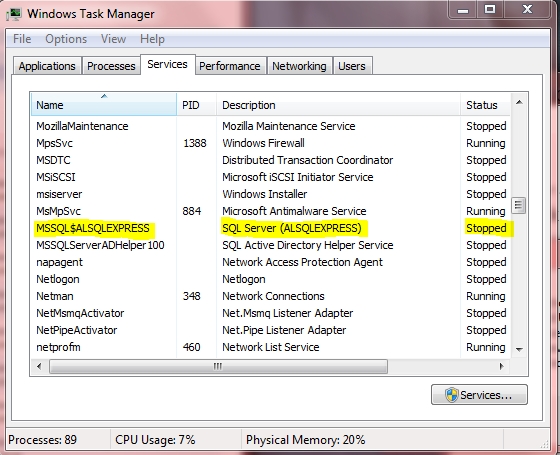 With the Services tab open, click the Name header to alphabetize the services. If the Status of the service labeled MSSQL$ALSQLEXPRESS is "Stopped", click the Services button to open a UAC (User Access Control) window. Note: Your MS Windows login status must be a "Local Administrator", or otherwise your login must have the credentials to proceed further. The Services screen is shown below:

Right-click the service named SQL Server (ALSQLEXPRESS), shown highlighted in the image above, and click Properties.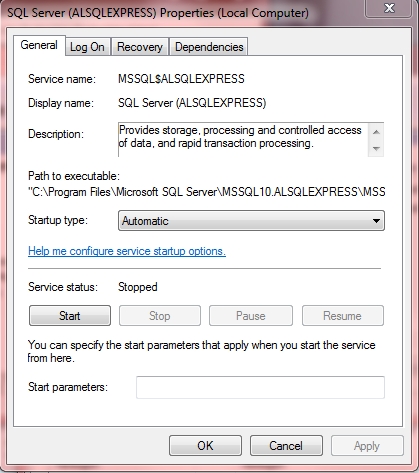 Click the Start button to start the service.
To prevent this service from being stopped in the future, click the Recovery tab, then click on each pull-down menu for First failure, Second failure and Subsequent failures and change each from Take No Action to Restart the Service as shown in the image below: